Good Morning Monday.... My last Monday off with my H bug for the summer, boo.
I've decided to take part in Make Yourself Monday with Jamie from
For Love Of Cupcakes
.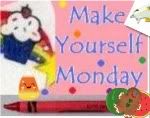 As an art teacher I'm always looking for unique and different ways to dress and adorn myself.
I've recently decided to take part in an Alternative Craft Fair to show my artwork and my goods off. In hopes to sell something.
I've been really into these canvas bags as of late....
They are perfect to throw my keys into, my credit card, my blackberry, and a snack for my rambunctious toddler. This is the perfect alternative to a full size purse, which has become bulky to me as of late while doing quick errands. I need my hands empty to stop my hurricane toddler from destroying the store.
I also discovered this clutch at my new found love, Hobby Lobby.
It's simple, it's natural, and it has leopard print inside. That was a surprise to me when opening it, I didn't read the description to well obviously.
So I've been taking these items and making them my own. I've been using my first one day in day out, and am in LOVE. I throw the small purse inside my big purse on days where I feel like using one of my many large bags.
This is one of the smaller purses that I happen to use day to day.
This is the larger size one, about 6in x 9in.
A close up of one of my 'small' purses.
Yet another small purse.
Now I kind of fell in love with this one and am debating whether I should add some color in small spots. I love that when you close the clutch all you can see are a couple of curls if you want to mellow the look down.
As an art teacher I do create work of my own as well. So naturally I put some in my Etsy shop.
As well as a drawing in ink.
Now I do all the typical fabric flower headbands, flower bobby pins, and pins like many of us bloggers out there as well.
I also dabble in doing inappropriate onesies for babies. I loved putting my son in these... my husband hated it. Which made it that much more fun.
So I do a little here, do a little there, and you can find most of it over at my website on Etsy...
Or you can contact me through my Facebook page at
I'm going to be participating in a couple of giveaways very soon including one of my own fabric flower headbands, and
BasicH2
an organic cleaner from
Andrea
.
Ashley